Employment Law Solicitors
Why Choose Osbourne Pinner?
LEADING EMPLOYMENT LAW SOLICITORS
Osbourne Pinner is a team of leading employment law solicitors with offices in Piccadilly and Harrow. We support employers and employees in a full range of contentious and non-contentious matters.   
You can book a confidential consultation by calling 0203 983 5080 or by email at [email protected] 
We have a strong track record in employment law advice, dispute resolution, tribunal representation and successful legal proceedings – both from the point of view of the organisation and the employee.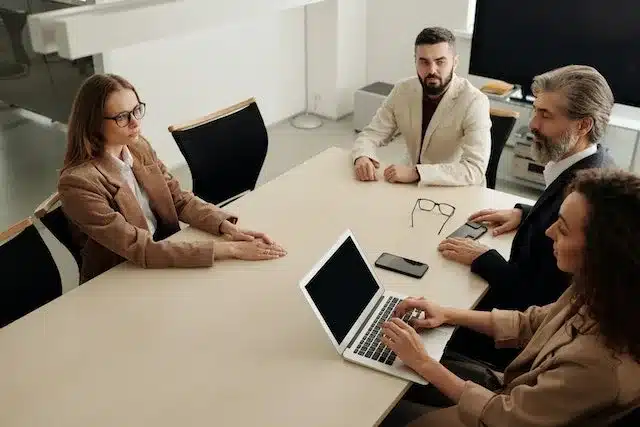 Osbourne Pinner has an outstanding reputation and strong track record representing our clients in employment law disputes. We specialise across industry and sector – whether you are working in the private sector, government or charities and the third sector. We have a particularly strong track record representing City clients, both from the perspective of the employee and the employer.   
We recognise that emotions can often run high in the field of employment law – for both sides. That's why we pride ourselves on our communication and empathy when dealing with your case. 
Our advice is always practical and down to earth. We always aim to resolve disputes quickly and deliver unrivalled service throughout. We are transparent about our fees and offer a range of flexible cost options. 
EMPLOYMENT LAW FOR THE EMPLOYEE
Whether you are an employee, director, senior management, or a business owner, we promise swift, confidential, and expert advice.   
So that you are in the strongest possible position, we recommend that you reach out for legal advice as soon as you can. If you suspect that your employer is considering taking action against you, or you are being treated in a discriminatory way, get in touch with us today. 
We recognise that you may be worried or distraught and require urgent advice. We'll help you focus quickly on your rights, explain your options clearly and sensitively, and help you diffuse or resolve the situation as soon as possible. 
We can help you at any stage of your employment: 
OUR EMPLOYMENT LAW SERVICES FOR THE EMPLOYEE
We offer a full range of employment law services for employees. You can always rely on our swift, expert professional advice, excellent communication and personal response. 
High-stakes litigation
Our team is experienced in dealing with the most complex and high-value employment litigation cases, including those involving high-profile City institutions and with very high stakes.
Unfair dismissal, constructive dismissal & redundancy
We can assist with any issue pertaining to you leaving employment, whether dismissal or redundancy, and our team will ensure that any settlement agreements are just and generous.
Discrimination
If you are facing discrimination at work, it's important to get legal advice as early as you can – whether you're dealing with discrimination on the grounds of disability, sex, religion, race or age.
Harassment & bullying
Contact us if your employer is failing to protect you from bullying or harassment, if you're dissatisfied with how a complaint was handled, or for support through tribunal or legal processes.
Mediation services
Mediation can help to resolve disputes at all stages, especially early in a conflict or disciplinary matter, but mediation can also be useful after a claim is submitted to the employment tribunal or court.
Contracts
Whether you need advice about contracts and documentation prior to signing or need post-employment support to navigate non-compete restrictions or covenants, our team can assist.
Whistleblowing
There are laws in place to support whistle-blowers. If you've raised concerns or reported wrongdoing, our team can support you throughout internal grievance processes, tribunals or the courts.
Family rights
Osbourne Pinner will support you through any matters concerning maternity, paternity and family rights, including those relating to pregnancy and maternity-based discrimination.
Settlement agreements
Whether you are staying in employment or leaving your employer, using a settlement agreement can often avoid formal disciplinary or redundancy procedures and save time and money.
Advice about employment rights
Our broad base of experience means we can help you to clearly understand your rights across the whole gambit of issues, including both statutory and contractual rights and obligations.
EMPLOYMENT LAW FOR THE EMPLOYER
Osbourne Pinner excels at delivering expert, professional advice to a wide variety of organisations on all aspects of employment law. 
You can draw on the expertise of our team in many ways. We can support you on an ad-hoc basis, advising and acting on diverse matters as and when needed. Or, if you prefer, you can engage us on a more formal basis for retained HR and employment law advice and as your in-house designated lawyer. 
However, if you choose to work with us, we'll offer clear, proactive advice on all issues pertaining to employment law, and support on all matters, to protect your business. 
OUR EMPLOYMENT LAW SERVICES FOR THE EMPLOYER
We offer a full range of employment law services for employers. You can always rely on our swift, expert professional advice and tailored and timely communication. 
Contracts and policies
We can support you with contracts and company policy drafting and advice, as well as enforcement, dispute resolution, tribunals and litigation.
Disciplinary proceedings
Whether you need advice or process management, our team will ensure you avoid any mistakes or breaches that could lead to a finding of unfair dismissal.
Equal opportunities
Whether you are drafting policies and reporting or dealing with claims and disputes, our team delivers professional advice and support swiftly and sensitively.
HR service
If you'd like to lean into the support our team can deliver on a more regular, formal basis, we can take on the role of your HR team in all employment law matters.
In-house designated lawyer
If you need the full support of and access to a senior employment lawyer on a regular basis, we offer a full-service approach to delivering the legal services you need.
Redundancies
Engage with our team early to understand your responsibilities and the rights of your staff. We'll work with you to ensure swift, successful outcomes and optimum satisfaction for all.
Recruitment from abroad
As well as accessing our support on contracts and policies, we offer a full range of immigration support services. View more information here.[ER1]
Why Choose Us for Employment Law?
We strive always to ensure our clients' success. Our team is available for assistance at every stage of the employment law application process.
Our employment solicitors at Osbourne Pinner have extensive knowledge and experience in Employment law. We provide valuable guidance and assistance to our clients through each stage of the Employment process. We understand the importance of your issue, so we respond promptly, offering advice and action if necessary.
Get in touch with our team
Osbourne Pinner has a strong track record in achieving successful outcomes in employment law matters at all stages and for all parties. 
Whether you are an employer or an employee, you can book a confidential consultation with our team today by calling 0203 983 5080 or by email at [email protected]