Ravin is the senior office manager at the firm. He graduated from the University of London with degrees in Law and also a BSc in Marketing and Business IT.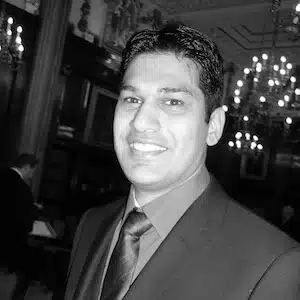 Prior to joining Osbourne Pinner Solicitors, Ravin has gained experience in both the Public and Private Sector and has responsibility for delivering business solutions across IT, risk, HR, performance, accounts and business planning. He excels in finding solutions into complex areas of Management.
Ravin enjoys football, cricket and he is an avid Motorsport fan in his spare time. He also enjoys spending time & horse riding with his daughter.
I asked to review my financial settlement. Within a matter of a short time, I got an appointment. My solicitor, was very professional and kind. She even offered me the chance to have a video conference if I was unable to go to the office. I felt comfortable and I was treated with respect. I felt confident in her capabilities. She was warm and put me at ease. The process was made very easy for me. Osbourne Pinner family law team was on top of my brief to them. Should I need a solicitor in the future, I will be very happy to go back. Thanks
Victoria Helena - Williams
Osbourne Pinner's family law team worked with me tirelessly to put my mind at rest throughout the divorce process. From the outset I felt reassured. I was kept up to date throughout the process. The quality, and detail of the guidance I received was realistic and allowed a high degree of trust to develop very quickly. Without hesitation, I would recommend Osbourne Pinner.Thank you to the whole family team for your professional support during this difficult time of my life.
Very Professional and responsive I instructed Osbourne Pinner Solicitors for my UK Start Up visa. I was so pleased with the whole immigration team. Solicitor Ravi and Ardra dealt with my UK Start Up process. I was so pleased with the way they dealt with the whole process. Everything was so smooth. Both of them were so responsive throughout the whole process. Ms. Ardra updated me all the time. My Endorsement decision came in less than 3 weeks. Their in house business strategist was very supportive and helpful too. The way they provided me support during all the workshops with the business strategist and then preparing me for the endorsement body, it was like a hand holding thing for me. I am so grateful for all their support. It has been fortunate for me to find Osbourne Pinner. Thank you for all your support and help throughout the tricky process. I am so pleased to receive my successful start up visa endorsement with Osbourne Pinner. I can not wait to see the whole team after my visit to the UK with my family. I will highly recommend your services to Osbourne Pinner.
Osbourne Pinner, and in particular their family law team were recommended to me by a good friend and trustworthy source. I have found in my dealings with them that they go the extra 'proverbial mile' in trying to help. This is not something I have experienced before with any other of the big family law firms. I am very happy with the service and will now recommend to my family, friends and colleagues.
The team at Osbourne Pinner were absolutely fantastic and I would recommend them to anyone! Special thanks to the family team.
Osbourne Pinner in London I could have ever dealt with. From how my case was handled, the communication, replying to my calls and explaining to me in detail about the law. Special thanks to Kanchan Gooransingh 's my personal advisor in getting my spouse visa processed very quickly and professionally.If you are looking for a professional and exceptional value for money service then, look no further. The team at Osbourne Pinner are thorough, professional and pleasant to work with. I highly recommend you give them a call, give them a try and judge for yourself. 5 Star is an understatement. All the best to all especially, Kanchan Gooransingh. Many thanks for your assistance & brilliant service.
Excellent and professional service. Very clear and precise instructions and was kept well informed. Very helpful and very good at their job. big Thanks to the Team!
My experience with Osbourne Pinnerwas absolutely pleasant from step 1. I did an application for Tier 1 Entrepreneur for myself. Solicitor Sabina was always available and very helpful with every step of the whole process. I would absolutely recommend them to anyone that is trying to apply for Tier1.
Very honest & straight forward costumer service. Very knowledgeable & refreshing approach. I highly recommend